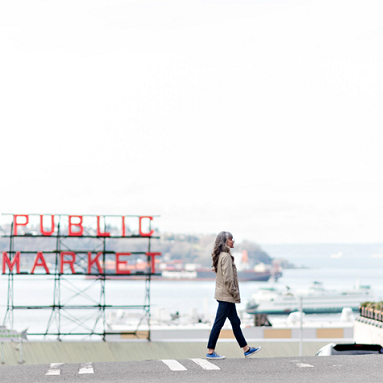 I am a one•woman show: the only person who designs, creates, and sells my jewelry pieces. I work harder now than I ever did in the corporate world, but I would not trade it for anything. I was accepted to sell my work at the world•famous Pike Place Market in Seattle, WA. At that time, there had only been 4 jewelers accepted in the previous 25 years. I have been selling my work there since 2008. The best part of my job is the connection. I make each piece of jewelry individually, completely by hand, so I am very much a part of every one. When I take my work to sell directly to other people at Pike Place Market, I get to see their connection with something I created, sometimes before we even speak. Every day my work becomes a conduit for thoughtful questions and meaningful conversations. I have cried with complete strangers, I have given and received love from people I have just met. I have heard life stories of struggles and celebration, heartache, healing, and hope. All because of my work. I could not do it without all of you.
Thank you from the center of my soul!
I design and create silver jewelry using Precious Metal Clay (PMC). It looks and acts a bit like modeling clay, but it is made up of microscopic particles of recycled silver, mixed with an organic binder. I make what I want out of PMC, and when it dries, I kiln fire it. Once the temperature reaches 1650˚, the binder burns out and all the silver particles melt together. Once the piece cools down and I take it out of the kiln, I have in my hand a fully metallic, pure silver piece.
All my work is about growth and change: minds, hearts, plants, and places. Many of my designs are created by taking molds of actual plants. Then, I use those molds when I make each piece individually. Some plants have special meanings or medicinal properties, but others offer just a wonderful texture. Due to the textural elements of my work, most pieces have a matte finish. I believe it is easier to appreciate texture on a surface without high shine.